What Is The Yellow Peeling Oil
The Yellow Peeling Oil by The Good Peel is a strong-strength AHA (Alpha Hydroxy Acid) based oil that contains a potent mix of AHA's designed to effectively remove dark marks, hyper-pigmentation, spots, and acne scarring.
As it's a layered peel, (meaning it contains more than one peeling agent), it has a stronger effect on the skin than generic AHA peels.  It is suitable for use by all skin types, although, if you have a particular skin condition, such as eczema and dermatisis, we would advise consulting with your dermatologist before using.
What Are the Ingredients In The Yellow Peeling Oil
Glycolic Acid, Lactic Acid, Malic Acid, Salicylic Acid, Citric Acid.
How To Use It
 As recommended by dermatologists it is crucial that you only use this peel if  you are familiar with your skin type, your skin history or you have used AHA based products before with no complications. The extent of the peeling will vary from person to person, however, to avoid post-hyper-pigmentation,  please follow the instructions below as carefully as possible:
Instructions:
1) Wash and clean the area of your body or face that you wish to apply the peeling oil to. Do not scrub or use exfoliants prior, as this can aggravate the skin, making it more sensitive. 
2) Apply the peeling oil 3x per day, ideally in the afternoon or evening (every few hours) for at least 3-4 days only. It is important you do not apply for longer than 4 days. Consider doing this treatment on the weekend or on your days off from work when you are less likely to be disrupted. If you must shower, do so, without soap or extra exfoliants. Allow the product to fully sink into the skin before re-applying.
3) The peeling process generally begins on the 3rd or 4th day. Once the skin shows signs of superficial peeling, (dry, leathery, shiny or chapped skin), do not pick the skin. Do not remove the dead layer of skin yourself, instead let it fall off naturally. You can wash, and bathe as normal but avoid extra exfoliants during this time. 
4) Aim to take care of the dead skin layer as much as possible. Soften the dead skin to fall off by washing with warm water, and moisturizing heavily. This will quicken the peeling process. 
The skin may be itchy whilst it's peeling, this is normal and will generally occur as the dead skin layer sheds. If redness occurs, do not touch the skin, but instead aim to keep the skin as moisturized as possible. Do not use skin lightening agents, or lotions at this time. 
5. Once the peeling process has finished, you can return to using your natural skin lightening agents as normal, but during this time, you must avoid extra exfoliants and other AHA products. We do not advise using hydroquinone, or steroid based products. The new skin layer will be hyper sensitive and will absorb any product you use. Please bear that in mind. 
Pre-cautions
 1. The new skin layer will be hyper-sensitive, so avoid applying any lotions, skin lightening products, or any AHA based products. This can cause lead to irritation and post hyper-pigmentation.
2. Do not scratch or peel the skin. 
3. Minimize your exposure to sunlight, and if possible, apply sunscreen as much as you can. Zinc/Titanium-based sunscreens offer the highest protection. 
4. Do not do more than 3 sessions of peeling over the course of a month. Overusing the product and peeling excessively will do more harm than good. 
            Previous Users Results of the Yellow Peeling Oil.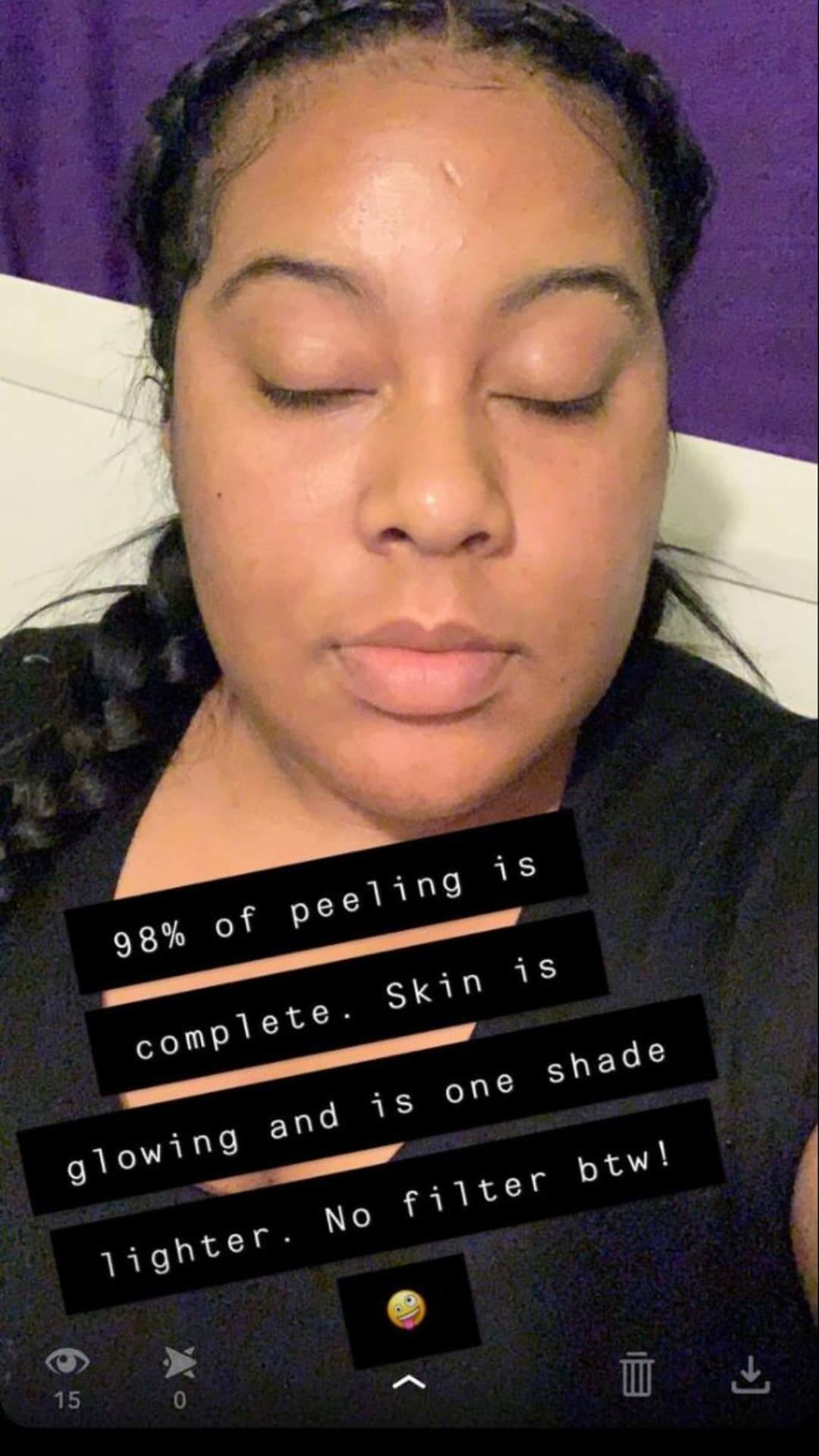 Can The Yellow Peeling Oil solve my hyper-pigmentation? 
→ Yes, it certainly can. As it's a superficial peeling oil, there is a very little chance of post-hyper-pigmentation occurring as a result of the peel (unless overused or used improperly - please refer to the instructions above).  The Yellow Peeling Oil is the safer option to conducting chemical peels as it does not need to be be neutralised, the product stays on the skin, and absorbs into the skin over a number of days. The skin typically peels in sheets, and there may be some short down-time involved.  
The Yellow Peeling Oil is ideal for those with epidermal layer hyper-pigmentation (brown hyper-pigmentation), dark spots, and acne scarring. It can help to remove years of dark spots, and hyper-pigmentation within a few sessions of peeling. It is not ideal for those with dermal layer hyper-pigmentation, which is deeper and of a blue-black color.
Can The Yellow Peeling Oil remove old scars?
→ It can remove old scars, dependant on the extent of the scarring, and how deep the scarred tissue is.  By peeling the surface layers of the skin, the skin is forced to regenerate new skin tissue and new collagen. This results in the diminishing of old scars, dark marks and layers of dead skin. Regular skin peeling through chemical exfoliants is a great way to achieve a more youthful glow, more radiant skin, and to allow the skin to remain younger and firmer for longer. For individuals using skin lightening treatments, such as Glutathione, superficial skin peeling is essential to revealing lighter, clearer skin. 
Recent Reviews/Testimonials 
Each product user is sent a request to leave us their honest, unbiased review regarding our products in order to help others make an informed choice before their purchase. If you'd like us to publish your review, kindly get in touch with us via email. 
The Good Peel - Yellow Peeling Oil
Average rating:
1 reviews
Oct 17, 2019
Really amazing peel
Used it twice now 4 weeks apart, the peeling is a lot, and if ur considering using it on the full body forget it. Use it it on certain areas, my skin is brighter, and my pores are smaller. I would recommend it, its just a bit on the expensive side
Get Email Exclusive Discounts
(Spam? Nope. we play by the rules)
Disclaimer:  Products sold by SHCGlutathione and Co. or it's accredited distributors are not intended to diagnose, treat, cure or prevent disease.
Find out more about how the FDA supports and regulates the sale of supplements.  Learn more.